PROJECT SCOPE
Design and print business cards for a dog walking and pet care service
DESIGN
For the front of the card, I created a custom pencil-style illustration of a woman walking a dog, and then I colorized and vectorized it. The layout for both sides of the card is a color-block design with an illustration on one half and informational text on the other half. I used a friendly, easy-to-read, hand drawn font and an easy-going color palette of blues and yellow/cream.
BUSINESS CARDS (FRONT)
The front of the business card features a custom illustration in a color-block layout. The hand-drawn font and soft color palette give the card a friendly appearance. The glossy card stock shows off the color illustration well.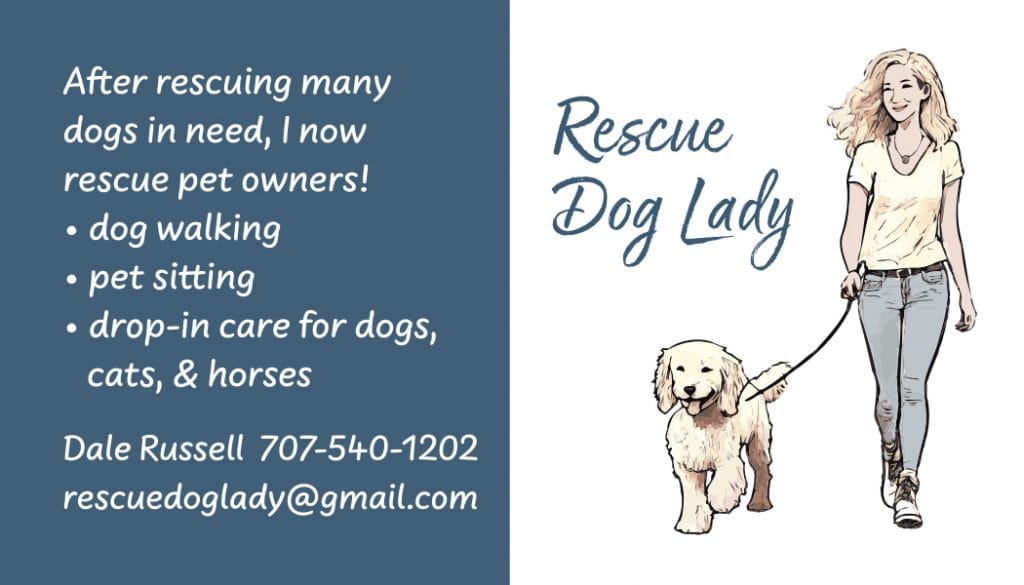 BUSINESS CARDS (BACK)
The back of the business card conveys some extra information about the service and displays a cute image of a pup asking to go for a walk by holding his leash in his mouth. The simple silhouette image is strong and prints well on the non-glossy back.
PRINTING
We chose a glossy, premium-weight card stock and a traditional square corner. The pdf files are stored and available at the printer for easy refills when more cards are needed..