PROJECT SCOPE
Logo system, custom bee illustration, candle box, candle jar printing, business cards, patterns
DESIGN
A beehive pattern makes a great backdrop for the packaging of Bee Bright Candles. Each scent has a different fun color paired with black, and a custom bee illustration makes the logo special. More scents can be added to the product line with additional colors chosen for each scent. The glass candle holders can be stamped for the most upscale look, or the design can be printed on sticker labels.
Bee Bright's main logo (the stacked version) combines a friendly, hand-drawn script font with the small caps form of a lovely serif font. The serif is also handy for the circular form of the logo where all caps are needed.
I drew the custom vector bee illustration with a simple enough shape to work in a logo but with enough detail to still have a cute character. The bee icon can be used alone when space is limited, as in a favicon. The landscape form of the logo can be used instead of the stacked version when vertical space is limited.
COLORS & PATTERNS
Bee Bright's packaging combines black with another color for each scent. The Honey Ginger scent uses a classic honey and black bee theme color combination, and the other scents use colors that represent the scents and that coordinate well with black. The honeycomb pattern helps tie the brand together.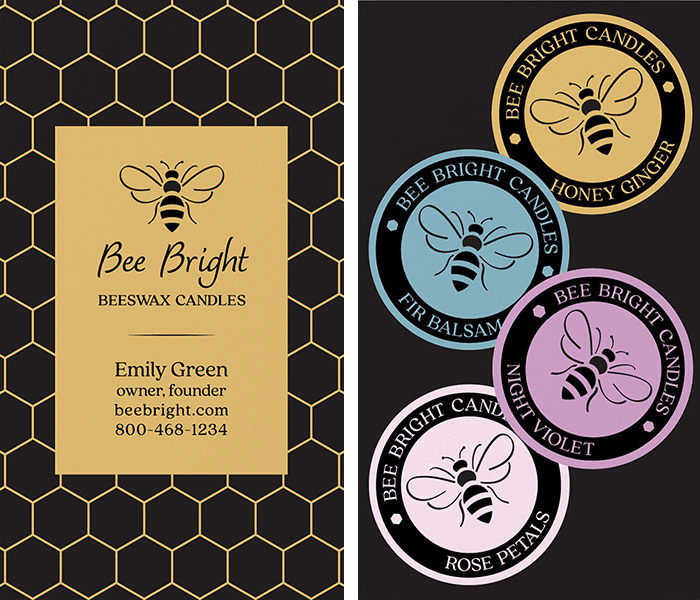 BUSINESS CARDS
The front of the business card has the classic bee-themed honey and black colors with the main logo, while the back of the card uses all four color schemes from the four scents on the circular logo style.
CANDLES AND BOXES